For Immediate Release: Monday, June 19th, 2017
Contact:  Social Equality Educators, or Jesse Hagopian:
Seattle educators demand justice for Charleena Lyles; pledge to wear "Black Lives Matter" shirts to school on Tuesday, join 5pm rally
Charleena, a pregnant mother of four, was shot and killed by Seattle police in front of her kids
Educators say a Seattle Public Schools parent was killed & they will stand by her family
Some 3,000 teachers wore Black Lives Matter shirts on Oct. 19th—now they will wear them to school for Charleena.

What/Where: Seattle teachers and educators will wear Black Lives Matter shirts to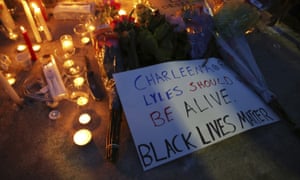 school, hold lunchtime speak-outs, and rally at 5pm at Magnuson Park.  Then Educators will march to a 6pm press conference at the Brettler Family Place apartments where Charleena lived: 6850 62nd Ave NE, Seattle, WA 98115.
When: Tuesday June 20th, 5:00pm educator rally, march to 6pm press conference with Charleena's family.
Who: All Seattle teachers, educators, and families are being encouraged to wear the Black Lives Matter shirts on Tuesday in solidarity with Charleena's children and family.
RSVP on the Facebook event page now!
Seattle, WA—On Sunday, June 18th, Charleena Lyles, a pregnant mother of four, was killed by Seattle police after she called them to her home for help.  Police alleged she had a knife.  She was killed in front of her kids, who had to be carried over her body to leave the apartment.  Chrleena had children who attended two different Seattle Public Elementary Schools.  Educators from those schools have been contacted.
"As a Seattle Public Schools parent, Charleena Lyles was part of our education family," said Garfield High School teacher Jesse Hagopian.  "We are wearing Black Lives Matter shirts to school on Tuesday to show her children and her family that we grieve with them, we support them, and we will stand with them in Solidarity."
Earlier this school year on October 19th, some 3,000 educators wore shirts to school that said, "Black Lives Matter: We Stand Together." Hundreds is families and students did too. Many of the shirts also included the message "#SayHerName," a campaign to raise awareness about the often invisible state violence and assault of  women in our country.
On Tuesday, June 20th we are calling on all educators throughout Seattle to put those Black Lives Matter t-shirts back on, have a lunch time photo and speak out in every school, and then join an after school rally.   Hamilton Middle School teacher Sarah Arvey, one of the organizers of the October Black Lives Matter At School event, said, "Charleena's death impacts the entire Seattle Public Schools community. We wore the Black Lives Matter shirts in October that read, 'We Stand together.' Well, now it's time to stand to stand together for a Black family that has been torn apart."
The educator rally for justice for
Charleena Lyles will start at 5pm in Magnuson park and then march to the 6pm press conference being held by Charleena's family.
It was one of the most triumphant days of my life.
Thursday, June 15th was a day when I took the most painful moment in my life and used it to produce one of the most joyous days of my life. This was the day I had the honor to present the Black Education Matters Student Activist Award to four incredible young changemakers in the Seattle Public Schools. The Student Activist Award fund offers a cash scholarship and community support to deserving Seattle public school students who demonstrate exceptional leadership in struggles for social justice and against institutional racism. Our winners this year were Jelani Howard, Baily Adams, Precious Manning-Isabell, and Mahala Provost—young activists who you will undoubtedly hear much more about in the future as they continue to challenge racism and transform every institution they encounter.
Each student received $1,000 from the fund I started after winning a settlement when I was assaulted by a Seattle police officer. I won this settlement by launching a federal lawsuit against the City and the Seattle Police Department after being pepper sprayed without provocation at the 2015 Martin Luther King Day rally in Seattle. While the officer who doused me with pepper spray, officer Sandra DeLaFuente, didn't even receive a one-day suspension for assaulting me on the sidewalk, I was at least able to win some compensation that I could put to good use. I then partnered with leaders in the Seattle NAACP–education chair Rita Green and youth outreach coordinator Rachael DeCruz–to form a committee for finding and selecting leading student activists.
Joining us for the award ceremony were the Super Bowl champion Bennett brothers, Michael and Martellus–two of the greatest football players in the NFL and two of the greatest activist athletes in the world. Having these two celebrated athletes and powerful spokesmen for justice made the award ceremony deeply meaningful for all in attendance. Seattle Seahawk defensive end Michael Bennett gave one of the awards in the name of his mother, Pennie Bennett, to Mahala Provost. Bennett said of this newly established award,
The Pennie Bennett Black Education Matters award is given in the name of my mother who, as an administrator and a teacher, has dedicated her life to changing the school system and her community. This award is presented to the most outstanding student changemaker for their work in the community and at school–and for believing that anything is possible and inspiring others to be different.
Provost won this award for her dedication to showing the power of STEM fields (winning seven gold medals statewide in the NAACP's Afro-Academic, Cultural, Technological and Scientific Olympics) and her activism for food justice with the organization FEAST, where she worked to eliminate food deserts and teaches about nutrition in communities of color.
Student award winner Precious Manning-Isabell is the president of the Black Student Union at Chief Sealth International High School and has been a leader on and off the campus. She helped to lead the Black Lives Matter At School day action at her school, as a cheerleader she refused to stand for the national anthem to raise awareness about racism and police violence, and she helped produce an award winning documentary, "Riffing on the Dream," about race relations at her high school.
Award winner Baily Adams is the president of the Black Student Union at Garfield High School and has helped organize teach-ins, die-ins, know your rights trainings, and was leader in the Black Lives Matter At School event this year. When Donald Trump was elected president, Adams was one of the students who lead a walkout of hundreds of students out of the school, joining thousands of other students from all around the city in one of the biggest walkouts in Seattle's history.
Jelani Howard is a member of the Garfield High School football team and helped lead the team in discussions about taking a knee during the national anthem, building on the example of Colin Kaepernick, to raise awareness around racism and police violence against people of color. The entire team agreed and their action–all season long–garnered national news headlines and inspired teams all around the city, state, and nation to follow suit.
Seeing the joy in the faces of the student activist award winners and their families that evening made me certain that pain I endured from being assaulted by the police was not in vain.  As Martin Luther King Jr. once said, "Education without social action is a one-sided value because it has no true power potential."  These students represent a new generation of young Black rebels who are expanding our understanding of the purpose education, refuse to accept a system that does respect their humanity, and are becoming truly powerful agents of change.
Some 6,000 high school seniors in Washington are at risk of not graduating because they haven't passed one of the myriad of high-stakes tests, including the Smarter Balance Assessment Consortium (SBAC) Common Core aligned language arts and math exams, as well as a biology end-of-course exam. These students could have met all the other requirements, excelled social and academically in school, and yet be denied a diploma from a test-and-punish political system that is completely out of control.
However, because of the massive uprising of the opt-out movement in Seattle, Washington State, and around the country, politicians are being forced to reconsider the testing graduation requirements. There are currently two bills in the Washington State legislature that could help alleviate the pain.
House Bill 1046 would complete eliminate the requirement to pass any of the high-stakes exit exams for graduation. Proponents of corporate education reform, such as Stand for Children and the Business Roundtable, opposed the House bill and the Senate then drafted Bill 5891, which would only eliminate the biology end-of-course exam as a requirement for graduation—until the year 2021.
On Thursday, the Washington State Superintendent of Public Instruction, Chris Reykdal, announced he is asking the legislature to reach a compromise that would suspend all of the graduation test requirements until 2019. Then students who don't pass one of the exams would have six alternative ways to graduate, including reaching a minimum score on college-entrance exams or taking a college-level course.
Let's be clear: Requiring exit exams to graduate has nothing to with what expert educators know about best practices for assessing students. In fact, Boston University economics professor Kevin Lang's 2013 study, "The School to Prison Pipeline Exposed," links increases in the use of high-stakes standardized high school exit exams to increased incarceration rates.
Let's be clear about another thing: none of these proposals to lessen the cruelty of the testocracy would have been possible without rebellion from parents, students, educators, and community members who have demanded an end to over-testing. From the student walkouts of high-stakes tests, to the teacher boycotts, to the parent opt-outs, it has been the grassroots struggle that has proven most important in changing the narrative about abuses of standardized testing and the authentic assessment alternative.
One of the champions of this movement is Rita Green, the NAACP Education Chair for  Seattle (and a three state region). Below is the testimony she gave before the Washington State Legislature on March 20, 2017 to demand they stop using high-stakes exams as graduation requirements.   Read her story and then contact a Washington State Legislator to let them know our children are more than a score.
Hi my name is Rita Green, I am the Education Chair for the NAACP, representing the State of Washington, Oregon and Alaska.

I am here today to speak in support of removing and delinking the passage of SBAC as a graduation requirement.

First, These exam do not show, prove or measure the entire character or capabilities of students. These exams do not measure discrepancies for the students whose families pay for test prep classes to artificially drive up their test scores. [These tests measure]:

1) Working memory-how well your child can hold information in their mind & execute upon it.

2) Processing speed-how quickly your child can solve problems

3) Nonverbal reasoning- how well your child can solve problems for which they received no previous education all 3 of these are universal skills.

4) What is measured in these exams are verbal comprehension skills. This measures the cultural knowledge – words, Ideas and concepts that white people use.  These are foreign to people of color because they have nothing to do with their experience and thereby makes these exams discriminatory.

Proficiency can be measured through Course Finals, and demonstration.

Second, my daughter Brittany never passed the Math [standardized test] WASL, because she missed a passing score by 6 points. In 2009 she graduated from High School. In 2013, Brittany graduated from Lincoln University with a BS in Criminal Justice and a Law Certificate. She worked one year for City Year at a school in Baton Rouge, LA. In 2014, she went back to school and graduated in 2016 with a Master's Degree in Justice and Security Administration. Brittany plans to go back to school to get a PHD in 2018. This is a student who would not have graduated under the current WA State Graduation requirements.

How many other Brittany's could our current law potentially hurt, harm or hinder?