For Immediate Release: Monday, June 19th, 2017
Contact:  Social Equality Educators, or Jesse Hagopian:
Seattle educators demand justice for Charleena Lyles; pledge to wear "Black Lives Matter" shirts to school on Tuesday, join 5pm rally
Charleena, a pregnant mother of four, was shot and killed by Seattle police in front of her kids
Educators say a Seattle Public Schools parent was killed & they will stand by her family
Some 3,000 teachers wore Black Lives Matter shirts on Oct. 19th—now they will wear them to school for Charleena.

What/Where: Seattle teachers and educators will wear Black Lives Matter shirts to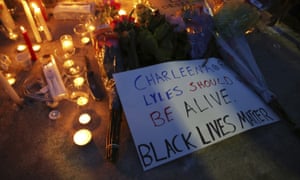 school, hold lunchtime speak-outs, and rally at 5pm at Magnuson Park.  Then Educators will march to a 6pm press conference at the Brettler Family Place apartments where Charleena lived: 6850 62nd Ave NE, Seattle, WA 98115.
When: Tuesday June 20th, 5:00pm educator rally, march to 6pm press conference with Charleena's family.
Who: All Seattle teachers, educators, and families are being encouraged to wear the Black Lives Matter shirts on Tuesday in solidarity with Charleena's children and family.
RSVP on the Facebook event page now!
Seattle, WA—On Sunday, June 18th, Charleena Lyles, a pregnant mother of four, was killed by Seattle police after she called them to her home for help.  Police alleged she had a knife.  She was killed in front of her kids, who had to be carried over her body to leave the apartment.  Chrleena had children who attended two different Seattle Public Elementary Schools.  Educators from those schools have been contacted.
"As a Seattle Public Schools parent, Charleena Lyles was part of our education family," said Garfield High School teacher Jesse Hagopian.  "We are wearing Black Lives Matter shirts to school on Tuesday to show her children and her family that we grieve with them, we support them, and we will stand with them in Solidarity."
Earlier this school year on October 19th, some 3,000 educators wore shirts to school that said, "Black Lives Matter: We Stand Together." Hundreds is families and students did too. Many of the shirts also included the message "#SayHerName," a campaign to raise awareness about the often invisible state violence and assault of  women in our country.
On Tuesday, June 20th we are calling on all educators throughout Seattle to put those Black Lives Matter t-shirts back on, have a lunch time photo and speak out in every school, and then join an after school rally.   Hamilton Middle School teacher Sarah Arvey, one of the organizers of the October Black Lives Matter At School event, said, "Charleena's death impacts the entire Seattle Public Schools community. We wore the Black Lives Matter shirts in October that read, 'We Stand together.' Well, now it's time to stand to stand together for a Black family that has been torn apart."
The educator rally for justice for
Charleena Lyles will start at 5pm in Magnuson park and then march to the 6pm press conference being held by Charleena's family.